10 Best Sex Positions For Getting Pregnant
Submitted by JohnPaul on Tuesday, 28 October 2014, 02:51 AM
Categories: Erotic Tip Tags: Sex Position, pregnant
#1 The Cat
This one is similar to the standard missionary position. He enters you, then he moves his body up slowly until he's as high as he can get without hurting either of you. Instead of thrusting he grinds into you slowly in small circles, which will stimulate the clitoris and guarantee an orgasm, which is believed to be the most important part of conceiving.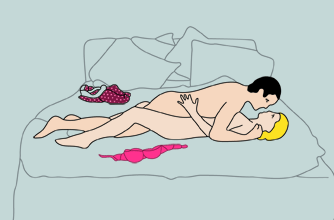 FALSE IMPRESSIONS
Submitted by Ginger0179 on Wednesday, 23 July 2014, 04:02 AM
Categories: Exhibitionist and Voyeur, Fetish, Toys and Masturbation Tags: dildo, cocksucker
Nile didn't do it consciously. She didn't plan for it beforehand, she just found herself doing it on that night in a strange city where she knew no one, although later she realized she'd been preparing for it for years. She knew where the leath- er bar was from her evenings spent combing through copies of Drummer magazine, reading every article and story, getting hot browsing through the "Dear Sir" sections and reading select ones out loud to her lover: "Whipmaster seeks slaves; must be ready to submit to my EVERY desire-no fakes-no phonies. You will experience pain and the desire to worship." And the photos! Something about photos of gay men together, especially in black leather and denim, cocks ringed and nipples studded, was more erotic to her than most photos of lesbians she had ever seen.

Vacation Does Not Count Chapter 3, ""The Driver""
Submitted by webmaster on Sunday, 15 June 2014, 12:00 AM
Categories: Interracial Sex Tags: interracial
We stepped off the plane in Jamaica and the company rep was waiting with our car. Because of work and social obligations with the large company staff in Jamaica, Sondra and I had little time to misbehave. Finally, we were finished, and at our host's suggestion, we asked the chauffeur, Samuel, to come up to our room to arrange an island tour the next day (our last full day on the island). Samuel was a good-looking man, older than us, very black, with a trace of gray at his temples, and that wonderful island accent. Sondra and I had been drinking since lunch, and I offered Samuel one, which he accepted. After talking about the different island sights and routes we could take, Samuel asked to use the bathroom. Sondra smiled at me and said, "Did you see the huge lump in Samuel's pants?" I smiled back, "And I guess you plan to investigate further?" Just then, Samuel returned and sat down. We talked a little more, and then I said I was tired and would see Samuel in the morning. Sondra and Samuel talked small talk for a while, as I laid in bed and listened through the partially open door. Finally, I heard Sondra ask, "Do many women come to the island for more than a vacation?" "Like what, Missus?" "You know, like for excitement. Maybe something they couldn't get or do at home." "Well, I'll be very frank, Missus. An awful lot of white women come down here to get laid by the natives." Sondra laughed. "Why, Samuel? Is the myth about size true?" "I can't talk for all, Missus, but for me, it is no myth." By this time, I was out of the bed, peering into the room from behind the door.

"Can I see for myself, Samuel?" Sondra asked.

Samuel stood and dropped his slacks. He wasn't wearing anything under them and a large, black dick hung between his legs.

"You want to touch it, Missus?" Sondra nodded and reached out with both hands. Both Sondra and I watched as Samuel's cock grew and hardened in her hands. Sondra leaned forward and sucked the head into her mouth.

Vacation Does Not Count Chapter 2, ""The Hotel""
Submitted by webmaster on Sunday, 8 June 2014, 03:19 PM
Categories: Group Sex Tags: Threesome, mmf
The next day, we caught a short island-hopping flight to our next port-of-call. It was the opposite of our little cottage. This time, we were staying at a very posh, high-rise resort hotel.

After checking out the view from our room, which overlooked the huge pool, Sondra unpacked, stripped and donned only her bikini bottoms and went out onto the balcony. She stretched, letting the sun warm her skin, and I'm sure more than a few people at the pool had an opportunity to observe that she has a magnificent set of tits. I stepped out on to the balcony with her, just as the man from the next suite did. He introduced himself to us and offered us a beer. His name was Brian and when he returned he couldn't take his eyes off Sondra's chest as we talked. After a few minutes, Brian's wife, Janet, joined us on the balcony. She was wearing a conservative one-piece bathing suit and her mouth literally fell open when she saw Sondra. She regained her composure and emphatically informed us that, as far as she knew, it wasn't a topless resort.

Each couple sat at their own table on the balcony, separated only by a low, thin railing, and continued talking. As Brian and Janet watched, Sondra began to apply her suntan lotion. She squeezed it onto her hands and rubbed it on her arms, legs, stomach, and finally on her breasts. She was watching the expressions on the faces of our new neighbors, as she applied it to her bare tits and ran her oily fingers over her nipples until they were hard and sticking straight out. Janet pulled Brian out of his chair and said they had to get ready for lunch. We waved good-bye and Brian smiled and said he hoped he'd see us again, soon; but we didn't see him or Janet again. We think they either left or had their room changed.

Vacation Does Not Count Chapter 1, "The Cottage"
Submitted by webmaster on Tuesday, 22 April 2014, 11:07 PM
Categories: Exhibitionist and Voyeur Tags: Voyeur, exhibitionist, Cottage
Last year, I was recruited by a large international company based in London. The package that they offered me was too good to turn down, and one of the most pleasant perquisites was a working tour of the resorts it owned and managed. My wife, Sondra, was thrilled at the prospect and we lined up her parents to watch the kids for the five week trip.

Sondra and I have been married for fourteen years, and have three kids. We are both 34 and fight the battle against aging, with Sondra winning in spectacular fashion. At 5'4" Sondra carries a hard, firm body with beautiful legs, a tight ass, slim waist and absolutely marvelous, large, high, round breasts on a perfect 108 pound frame. Always the perfect "lady," bordering on "prim and proper," I was looking forward to seeing her in the tiny bikinis and revealing one piece bathing suits she had purchased for our trip. I had especially enjoyed closely examining the results of her major "bikini-wax" treatment that left only a short, narrow "Mohawk" of auburn hair around her pussy.

The first leg of our tour took us to the Caribbean for stops on several islands. Our first accommodation was in a beautiful beach cottage, with all the luxuries one could ask for. My duties were light, consisting of being introduced to the management staff and attending a few business meetings and Sondra spent her free time sunning and shopping.

On the third day, I returned to the cottage to find Sondra putting on quite an erotic show for four college guys, 18 or 19 years old, who were on Spring Break and staying at the cottage next to ours. I had entered the house from the front (which was the second story in the back) and, as I walked out on to the deck, the sight before me froze me in my tracks. To my utter surprise and disbelief, my normally prudish wife was lying on the chaise lounge, sunbathing in the nude. Even more erotic, was the fact that from my high vantage point, I could see four boys avidly staring through the separating fence at my wife's lush charms. What I didn't know, but soon found out, was that Sondra was aware of her audience. I faded back out of obvious sight to watch.